Have a question about our pressure washers in Los Angeles, San Diego, the Central Valley, Phoenix or Las Vegas? Check below to see if it is covered here, and if not, don't hesitate to contact us today for an answer and expert insight on choosing the best pressure washer for your needs.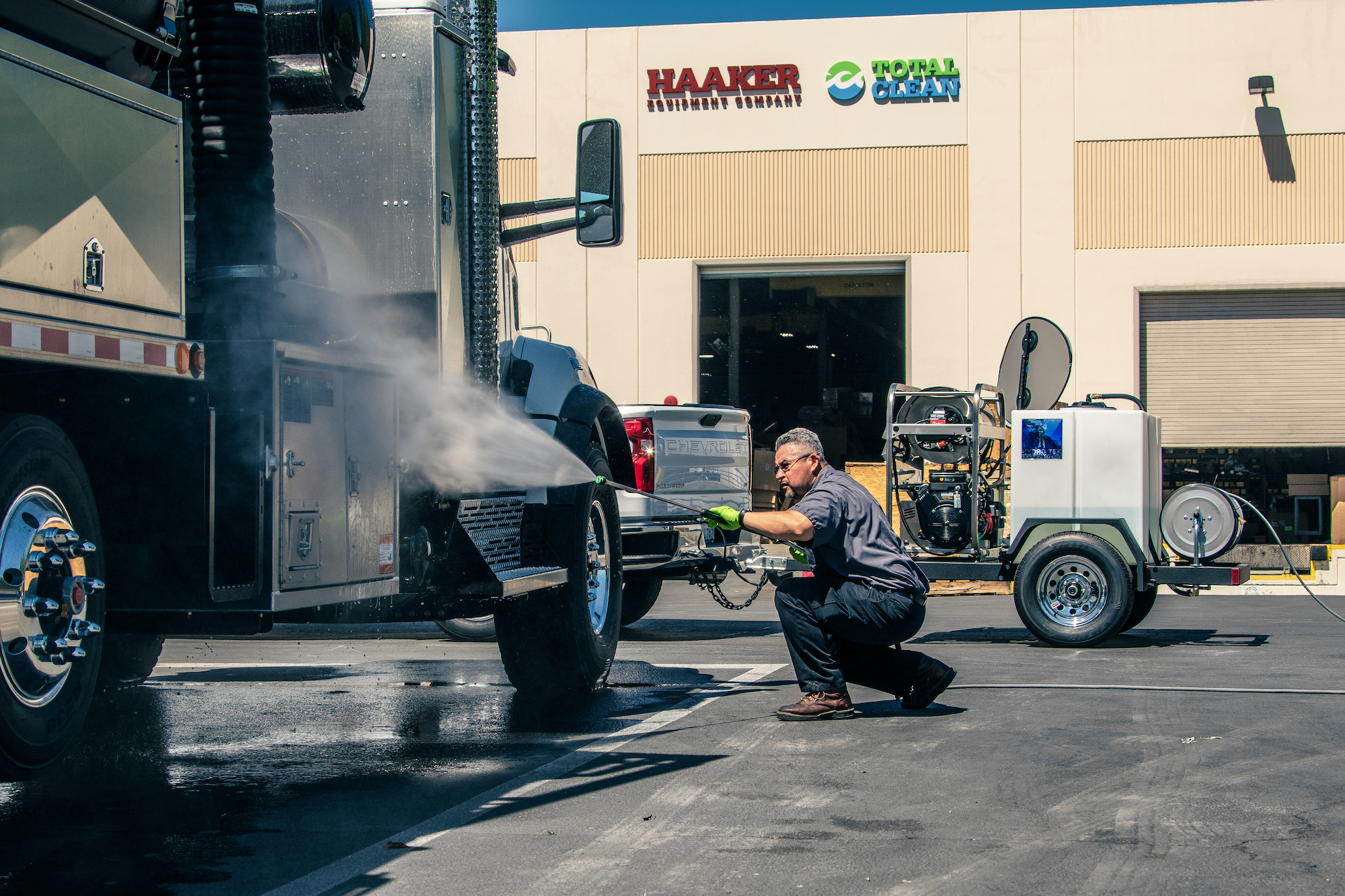 How much pressure and flow do I need?
As a commercial contractor, you'll need at least 3000 PSI to be fully productive. Flow is essential for cleaning horizontal surfaces or powering machines like the Hydro Twister. If excess water is an issue or you're cleaning vertical surfaces, we may recommend a low flow/high PSI unit.
High-flow units are recommended if you need to push a lot of dirt but what you're cleaning comes off easily. This is often the case for our customers interested in pressure washers for cleaning sidewalks or animal enclosures.
What size spray tip do I need for my pressure washer?
In our opinion, the spray tip is the most important part of any pressure washer. Tips that are too big can cause pressure loss, but tips that are too small can cause issues too.
Choosing a spray tip that is too small can cause:
• Higher pressure
• Belt slippage
• Higher amp draw
• Hotter water discharge
• Less discharge flow
• Premature motor, pump or unloader wear
We are happy to recommend the best spray tip size for your particular pressure washer. Just contact us to talk to one of our pressure washing experts!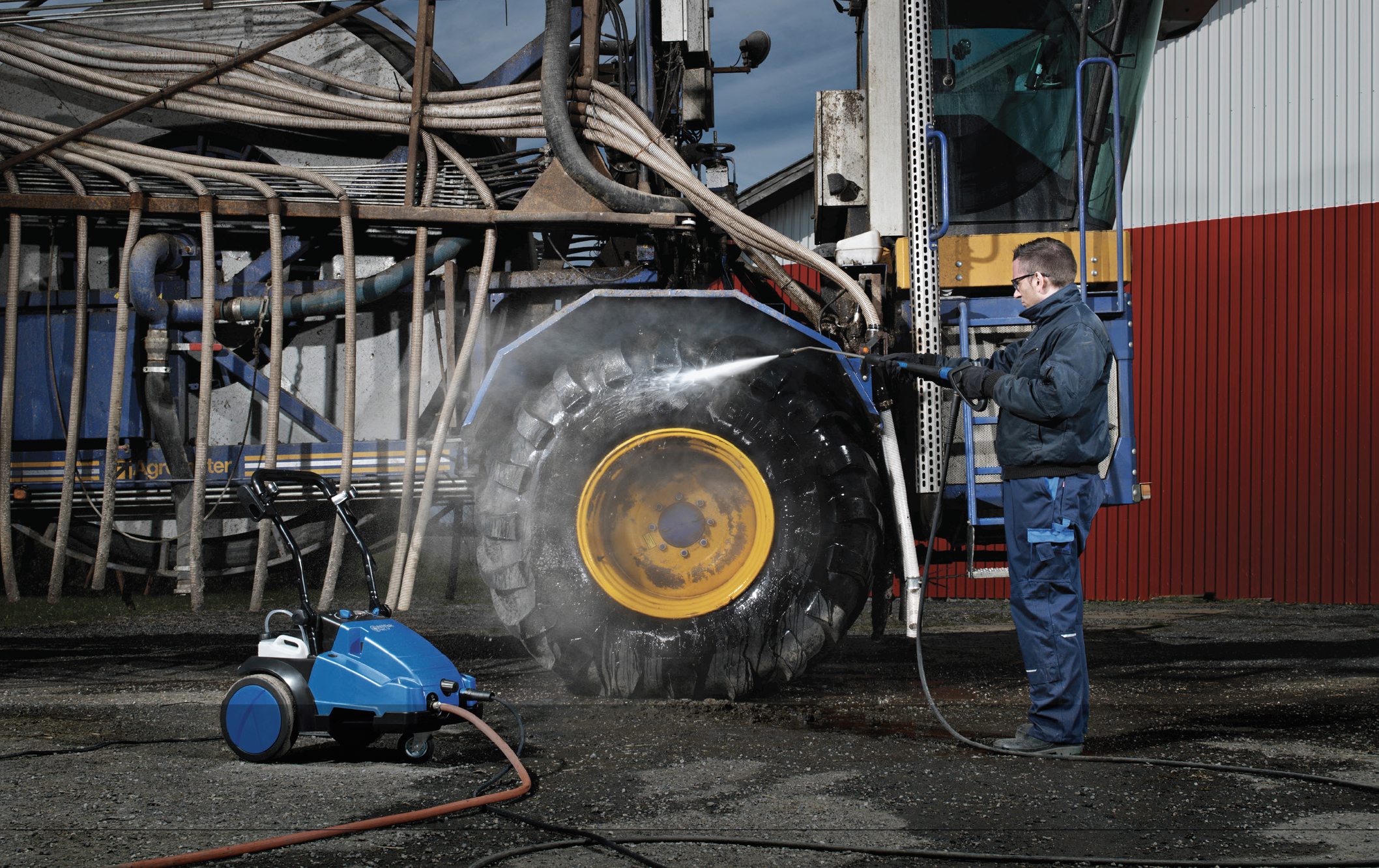 Which is better — a hot water pressure washer or a cold water pressure washer?
Neither is "better," but one may be better suited for your needs than the other.
Cold water pressure washers are great for cleaning objects and surfaces through a combo of the impact of the spray and the use of cleaning soaps and chemicals. While cold water pressure washers are typically used where oil and grease aren't factors, we can also recommend chemicals to deal with them effectively using cold water.
Hot water is generally recommended when cleaning oils, greases and petrochemicals. Hot water typically makes cleaning faster by loosening these solutions. The downside of hot water pressure washers is that they tend to be more difficult to maintain than cold water pressure washers because they use kerosene or diesel to heat pressurized water in a heavy-duty heating coil. Running the system requires electricity, so you'll have to plug it in unless you choose one of our options with a self-contained power source like a generator or battery.
How can I choose the right pressure washer?
With our help, of course! We will discuss how much performance you need, including pressure and flow. We'll talk about whether hot or cold pressure washers are the best option for you, and we'll discuss your power needs, highlighting the pros and cons of gas, diesel and electric power.
While our inventory includes a wide variety of hot and cold water pressure washers, there's one thing they all have in common: quality. Our units from Nilfisk and Hydro Tek deliver the best quality construction and components. Hydro Tek uses stainless steel for all control and safety panels, and their coils are wrapped in stainless steel to prevent rust. Stainless steel and heavy duty powder coated steel tubing make their frames rust resistance, and their individual components are truly the best the market has to offer.
What's the difference between horizontal and vertical coils?
Vertical coils are most common on lower-cost alternatives to premium pressure washers. When exposed to rain, vertical coils can trap small amounts of water, causing rusting of the base plate and increasing the risk of malfunctions in the burner. Vertical coils also generally position the burners closer to the ground, leaving it vulnerable to environmental hazards.
What's more important — flow (GPM) or pressure (PSI)?
Both are important! The PSI (pounds per square inch) is what forces contaminants from the surface. Its the "punch" delivered by a pressure washer.
GPM (gallons per minute) is the rate the contaminants are flushed from the service.
We'll talk about choosing the right combo of GPM and PSI to find the right pressure washer for your cleaning needs.
Have a question not covered here? Contact us today to talk to one of our pressure washing experts and discover the right unit for your facility!