If you're searching for effective methods to reduce germs and aren't sure where to start, Total Clean Equipment has your back. We've crafted a concise five-step plan designed around Hydro Tek hot water pressure washers that will aid you in combatting grime and germs.
Step One: Make a Plan

Getting started with a plan is your first move. Take into account your cleaning needs and the nature of your space. Will a commercial-grade or industrial pressure washer meet your requirements best? Talk to our team of professionals for an unbiased evaluation of your needs, including the ideal detergents and disposal solutions for the used water after completion of the cleaning process.
Step Two: Determine the Perfect Pressure
Every cleaning task is unique and demands the right pressure. Determining the perfect pressure depends on several factors such as the level of dirt, presence of other contaminants like grease or oil, and the surface tolerance against pressure.
Step Three: Regulate the Temperature
Next, the importance of the right temperature can't be overstated. While high temperatures can effectively kill more germs, an overly high temperature might damage the cleaning surface. Therefore, finding the optimal temperature—typically between 185°F and 212°F for most surfaces—is crucial to the cleaning process.
Step Four: Choose the Appropriate Detergent
Sometimes, hot water alone can do the job, but for certain tasks, you may need a detergent. Always check local regulations to ascertain the permissible types of detergents. Additionally, consider the runoff, especially when using a detergent. After selecting your detergent, allow the surface to soak for the recommended period.
Step Five: Rinse and Disinfect
After soaking the surface, use your Hydro Tek hot water pressure washer to thoroughly rinse the area. Your final step is to apply a disinfectant. Although cleaning is vital, it's the disinfecting step that delivers the most significant germ-reduction benefit.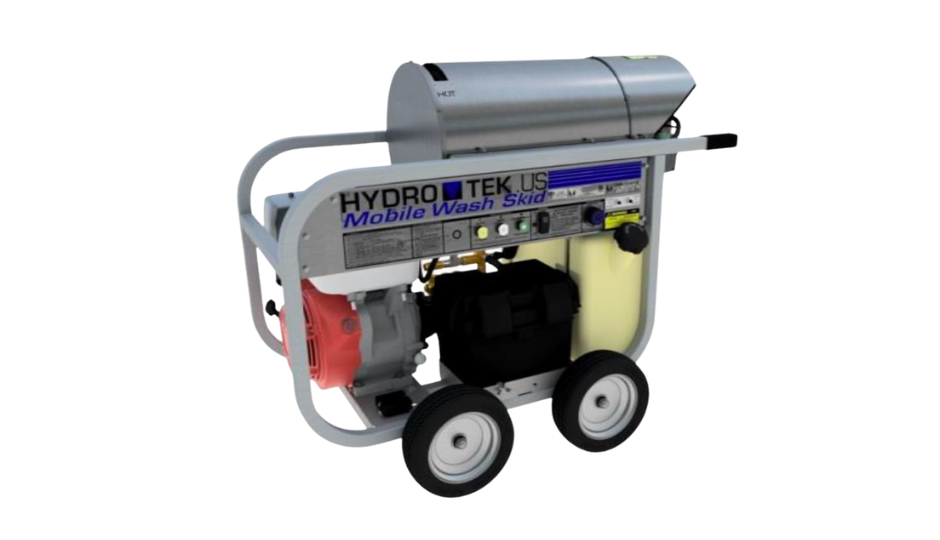 Spotlight: Hydro Tek SM40004HG
For an efficient, compact hot water pressure washer that aligns with our 5-step plan, look no further than the Hydro Tek SM40004HG. This portable powerhouse doesn't require electricity, making it perfect for any location with a water source. It's designed with a SpiraLast coil and a 12v burner, facilitating fast and effective water heating to tackle tough grease and grime. Its rust-resistant stainless panel, coil enclosure, and rain guard ensure your machine stays in top condition for years. Navigate your cleaning needs with the SM40004HG – the smart, economical choice.
Utilizing a Hydro Tek hot water pressure washer in San Diego is a strategic move in maintaining a clean and healthy environment. By following our comprehensive 5-step guide, you can confidently tackle germs and keep your spaces pristine. Turn to Total Clean Equipment for all your pressure washing needs—we're here to ensure you make the most of your Hydro Tek pressure washer. Contact us today to schedule your free in-person demo!