Hydro Tek SS Series Mobile Wash Skid
Compact, Gas Powered, Diesel Heated
SS Series 12V Mobile Wash Skids are gas driven, diesel fired hot water pressure washers.
Rugged "Pro-tect-it" Frame: Hydro Tek's unique "Pro-tect-it" frame of 1¼", heavy gauge stainless steel, can be truck or trailer mounted, pulled with the optional wheel kit, or left as a stationary skid.
Stainless Steel Panels: These rugged and durable panels offer lifetime rust and corrosion resistance and protection of your valuable investment from the harshest environments. Keeps your machine looking like new for years to come.
Simple to Use Controls: Lighted rocker switch, thermostat and other controls are located on an easy to reach recessed panel to prevent damage
SpiraLast™ Coil:
The coil is a Hydro Tek manufactured SpiraLast™ heating coil. Robotically fused ½" schedule 80 steel pipe is cold rolled to protect the steel pipe from fatigue and the spiral coil is then surrounded by ceramic insulation and stainless enclosure with double-wall end caps which includes a Lifetime Coil Warranty.
Belt Drive or Direct Drive Pump:
These industrial triplex, ceramic plunger pumps are run at lower RPM to give maximum efficiency and longevity outperforming the competition. Pumps are located front and center for easy access. Belt drive models have the EZ Align™ belt tensioning system to allow for easy, single bolt, belt tensioning adjustments.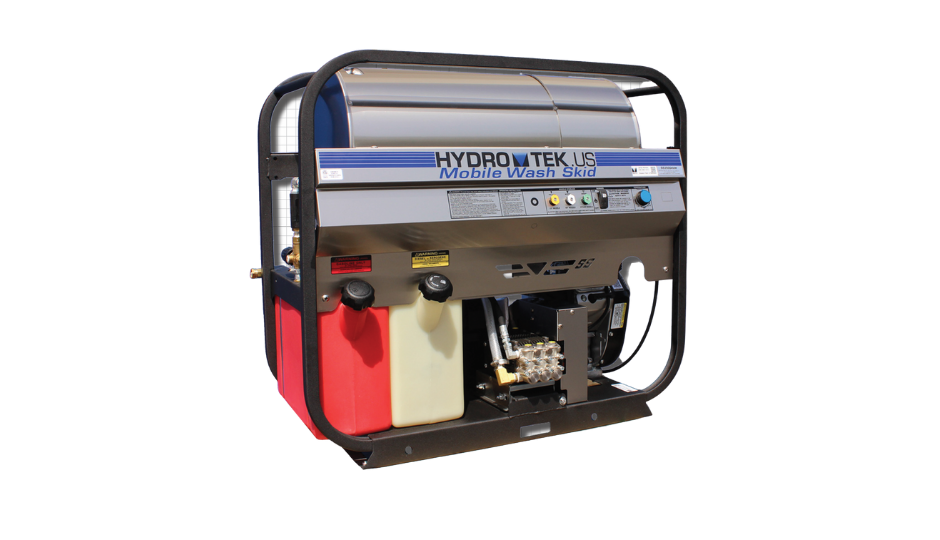 Burst disc technology for operator safety
Adjustable temperature up to 250ºF with steam setting (SS30008HG is adjustable to 200º, no steam setting)
Heavy duty wand & gun with nozzle storage, 50' high pressure hose and quick release nozzles
Slide out, snap lid battery box
Total Clean. Total Solutions.
Interested in seeing the Hydro Tek SS Series: Mobile Wash Skids in action? Contact us to schedule your free demo today.