When you have oily, greasy or sticky messes to tackle, you need the power of hot water to get the job done right. Our pressure washers in San Diego deliver — providing steam or hot water at up to 250 degrees, allowing you to easily melt away greasy, oily residue without the need for chemical cleaners or detergents.
HydroTek Pressure Washers in San Diego Deliver Exceptional Performance
Our inventory of hot water pressure washers in San Diego, Los Angeles, Las Vegas and Phoenix deliver top-notch performance and exceptional durability in any application. Spiralast heating coils made right here in California have a higher bend radius for maximum strength, higher energy and reduced flow restriction, and they are the only heating coils in the industry protected by a lifetime warranty.
Explore some of our hot water pressure washers in San Diego below, and contact Total Clean today for your free in-person demo and quote.
Hydro Tek SS30005VH Hot Water Pressure Washer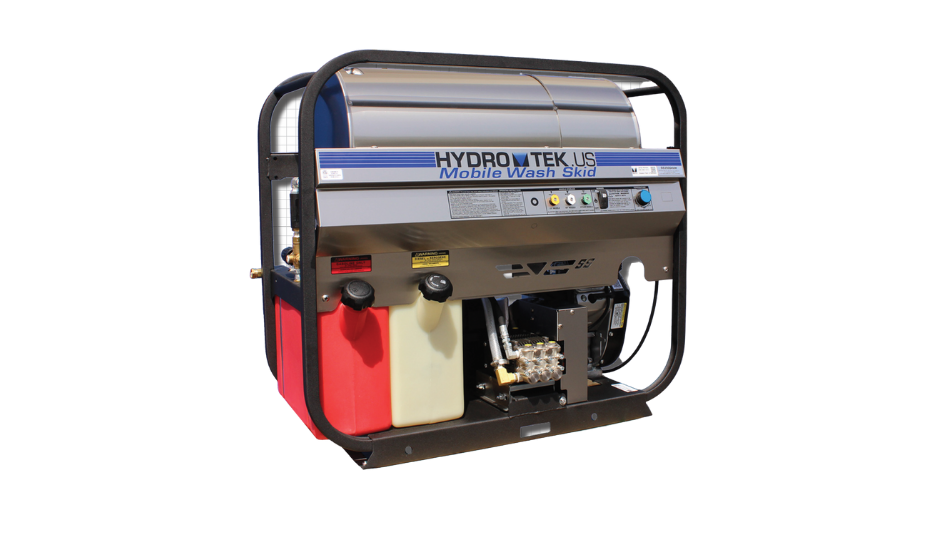 This compact, gas-powered, diesel-heated hot water pressure washer features a rugged "Pro-tect-it" Frame. This unique frame is made of heavy-duty stainless steel and can be truck or trailer mounted, left as a stationary skid or pulled with the optional wheel kit for the ultimate in versatility.
Durable stainless steel panels offer lifetime corrosion and rust resistance and protect your investment from the most unforgiving environments. Your machine will look like new for years to come!
The simple-to-use controls make these hot water pressure washers very operator-friendly, and the industrial triplex, ceramic plunger pumps are run at lower RPM to deliver maximum efficiency and longevity while outperforming the competition.
Other standard features include burst disc technology for enhanced operator safety, adjustable temp up to 250 degrees, heavy duty wand and gun with nozzle storage and a slide-out, snap lid battery box.
Hydro Tek SM40004HG Hot Water Pressure Washer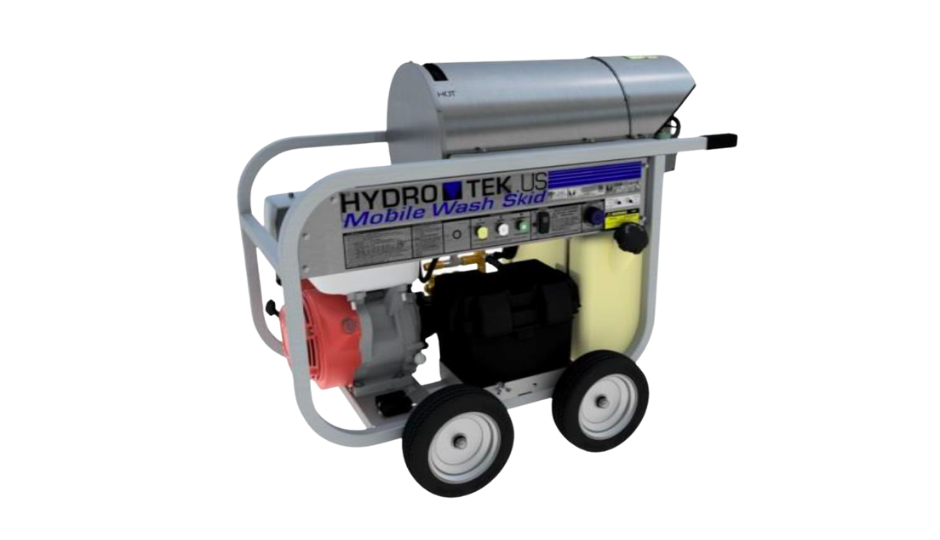 The SM Series of hot water pressure washers from Hydro Tek are portable and compact. Powered by a gas engine, these units are ready for use wherever a water source is available with no electricity required!
Quickly and efficiently heat water to blast away grime and grease with the SpiraLast coil and 12v burner.
Airless tires eliminate flats, and integrated handles make these hot water pressure washers easy to maneuver. The SM series is perfect for value-conscious operations who don't want to sacrifice operator safety, performance and features.
Interested in seeing these units in person? Click here to schedule your FREE demo of our hot water pressure washers in San Diego, Los Angeles, Phoenix or Las Vegas at Total Clean Equipment today.