At Total Clean Equipment, safeguarding the health and safety of your workforce is our top priority. In certain industries, creating silica dust exposure control plans is essential for keeping your team safe. That's why we are proud to offer PowerBoss floor sweepers that boast 99.9% filtration efficiency.
When it comes to controlling silica dust, PowerBoss stands tall. Most of our cleaning equipment surpasses, if not meets, the Occupational Safety and Health Administration (OSHA) regulations concerning High-Efficiency Particulate Air (HEPA) filtration of hazardous dusts.
PowerBoss presents three distinct dust control methods to supplement OSHA's recommended housekeeping practices:
Wet sweeping
Water flooding
Dry sweeping
Understanding Crystalline Silica
Silica, also known as quartz, is a prevalent mineral found in several materials commonly seen on construction sites. This includes soil, sand, concrete, masonry, rock, granite, and various landscaping materials.
Activities such as cutting, grinding, drilling or any other actions disturbing these materials can produce dust containing crystalline silica particles. These dust particles are tiny and invisible to the naked eye. However, this respirable silica dust is a serious health hazard, causing lung disease and potentially lung cancer. Even a small amount of airborne silica dust can pose a significant health risk.
In recognition of the hazards posed by minute respirable silica particles, OSHA regulation 29 CFR 1926.1153 mandates construction employers to limit worker exposures to a Permissible Exposure Level (PEL) of 50 µg/m3 or comply with Table 1 – Specified Exposure Control Methods when working with materials containing Crystalline Silica.
Introducing the PowerBoss Atlas Rider Floor Sweeper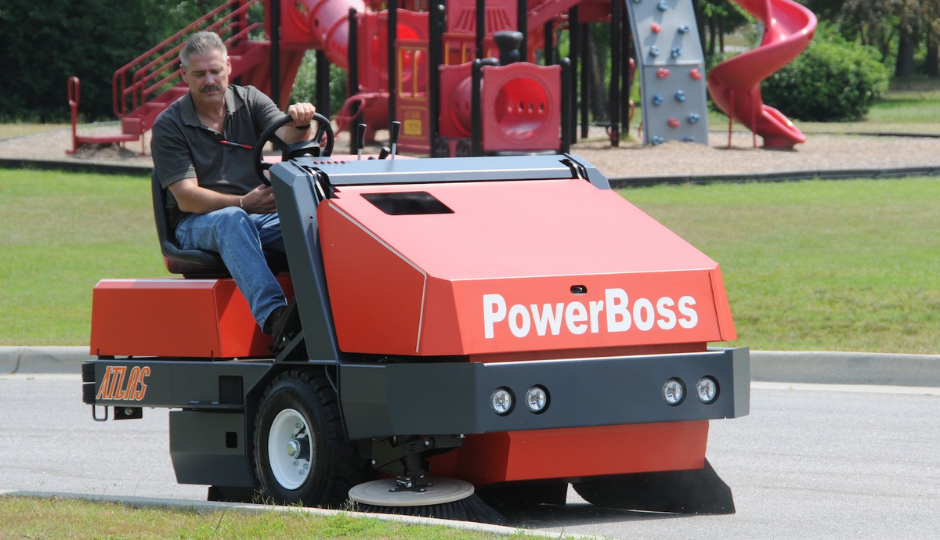 Reliability and cost-effectiveness are encapsulated in the compact and maneuverable PowerBoss Atlas. This 64″ industrial sweeper is equally effective indoors and outdoors, providing optimal cleaning solutions in parking lots, universities, hospitals, hotels, resorts, manufacturing facilities, distribution centers, and more.
Leveraging the latest fuel-efficient engines, the Atlas provides a choice of gas/LP or diesel-powered options, delivering versatility to cater to your specific requirements. Operating at a mere 83 dba noise level, this low-noise machine performs without causing significant disturbances.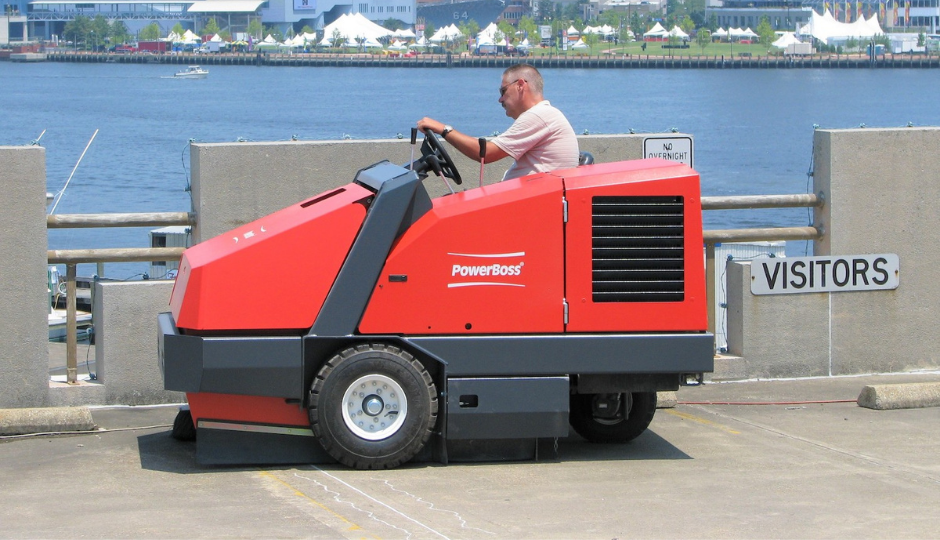 By employing a top-grade hydraulic system to control the main and side brooms, the Atlas design is aimed at being both cost-effective and reliable over its lifespan. Adjust the main broom, side broom, or dust filter with ease. The side broom is also retractable, allowing the operator to avoid obstacles, thereby extending the life of the brooms and offering the optional wet sweeping feature for optimal dust control.
Our PowerBoss range of equipment delivers on our commitment to safety. For further details, or to schedule a FREE demonstration, reach out to the Total Clean team today!