INDUSTRIAL WALK-BEHIND FLOOR SCRUBBER
Reduce water and chemical use by up to 70%
The Clarke Focus II Boost walk-behind floor scrubber has the right combination of capacity, cleaning path, runtime and rugged durability desired by contractor, rental companies and industrial facilities. With 30 gallons of solution capacity and a 34 inch scrub path, you will be able to tackle the largest jobs quickly and efficiently. The 36 volt power plant means longer run times for cleaning large areas and it delivers the scrubbing power often needed in large facilities. Up to 250 lb of down pressure delivers deep and thorough one-pass cleaning.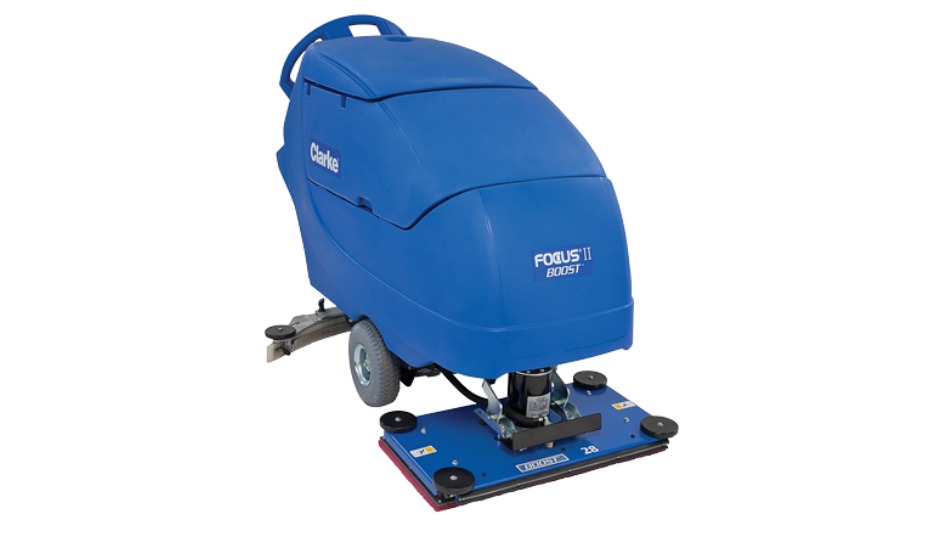 Quiet operation allow use in noise-sensitive areas
Chemical Mixing System (optional) ensures precise mixture of chemicals and water
Patented Pulse-Modulated Solution Control delivers precise, consistent solutions to floor surface
Gimble-Mounted Brushes and Pad Drivers ride easily over uneven floors, ensuring even scrubbing agitation
Total Clean. Total Solutions.
Interested in seeing the Clarke Focus II BOOST walk-behind floor scrubber in action? Contact us to schedule your free demo today.