Maintaining a clean and safe working environment is essential for businesses of all types and sizes. However, keeping large industrial spaces clean can be a challenging and time-consuming task. This is where our combination sweeper-scrubbers come into play. These machines provide a dual cleaning solution, allowing you to efficiently sweep and scrub floors with just one piece of equipment. Let's explore the benefits of combination sweeper-scrubbers for your business or facility!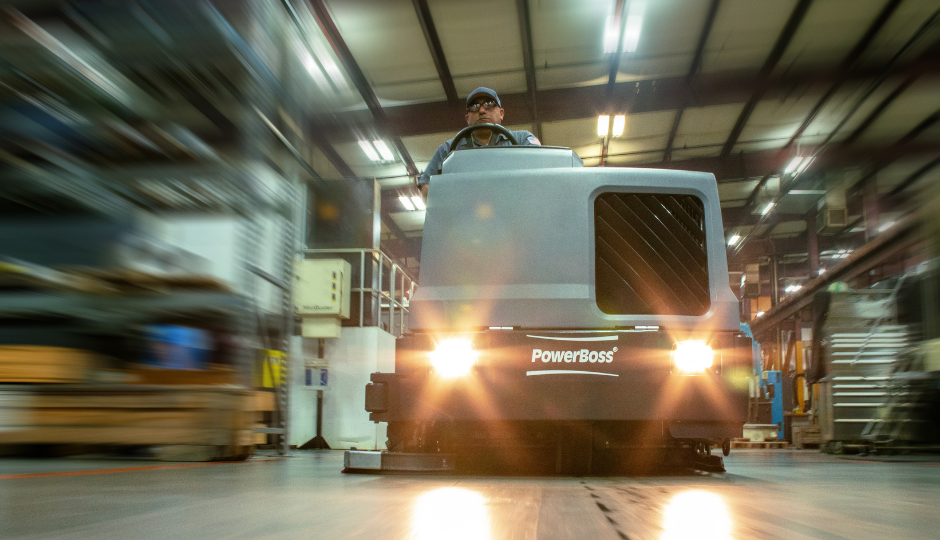 PowerBoss Sweeper-Scrubbers Deliver Increased Efficiency and Productivity
Combination sweeper-scrubbers are designed to clean large areas quickly and efficiently, making them ideal for businesses that need to maintain high levels of cleanliness on a daily basis. With a combination machine, you can clean both hard floors and carpets in one pass, which saves time and effort. PowerBoss sweeper-scrubbers, such as the Nautilus, offer advanced technology that enables users to scrub and sweep in one easy motion, reducing the time and labor required for cleaning tasks.
Reduced Maintenance Costs
One of the main benefits of using a combination sweeper-scrubber is the reduction in maintenance costs. Rather than having to purchase and maintain separate cleaning machines, businesses can invest in one machine that does it all. PowerBoss sweeper-scrubbers are built to last, with durable components that are designed to withstand the rigors of daily use. Additionally, PowerBoss machines are easy to maintain, with quick access to key components for hassle-free repairs.
Improved Safety and Health
Clean floors are essential for maintaining a safe and healthy working environment. Combination sweeper-scrubbers are particularly effective at removing dirt, dust, and debris, which can cause slip and fall accidents and exacerbate allergies and respiratory problems. The PowerBoss Nautilus, for example, features a powerful vacuum system that effectively removes dust and debris, leaving floors clean and safe for employees and visitors.
With the PowerBoss Nautilus, the operator can easily turn on and off all cleaning functions using a single switch. Before starting the cleaning process, you can select the desired functions, such as scrubbing and vacuuming. The Green Quick Scrub master switch controls these selected functions. Additionally, you can make adjustments to individual functions while cleaning, such as changing the water flow and brush pressure, without having to stop the machine.
More Environmentally Friendly Cleaning
Combination sweeper-scrubbers are also an environmentally friendly choice for businesses. By reducing the need for multiple cleaning machines, you can minimize your carbon footprint and reduce energy consumption. PowerBoss machines are designed to be more environmentally friendly, with features like onboard chemical mixing that ensures that cleaning solutions are used efficiently and effectively, reducing waste and minimizing the impact on the environment.
Our combination sweeper-scrubbers are an excellent choice for businesses that need to maintain clean and safe working environments efficiently and cost-effectively. The PowerBoss Nautilus, with its advanced technology and durable components, is an excellent example of a machine that can help businesses achieve their cleaning goals. With increased efficiency, reduced maintenance costs, improved safety and environmentally friendly features, our PowerBoss combination sweeper-scrubbers are an investment that can provide significant long-term benefits. Contact us today for your free quote and in-person demo of the Nautilus!